BSc MBBS FRACGP MPH PhD FACD, Specialist Dermatologist
Visiting Medical Officer, Department of Dermatology, Princess Alexandra Hospital.
Assoc. Prof. Erin McMeniman is a dermatologist consulting at 101 Wickham Terrace, Brisbane and provides inpatient consultations at the Mater Private Hospital Brisbane.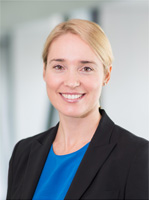 Having obtained her undergraduate medical degree in 2003 from The University of Queensland Assoc. Prof. McMeniman subsequently completed a Master of Public Health at The University of Queensland with a dissertation project in skin diseases in indigenous children. She completed her advanced training in dermatology in Queensland and was awarded a fellowship of the Australasian College of Dermatology.
Assoc. Prof. McMeniman conducts a medical dermatology clinic 2 sessions per week at The Princess Alexandra Hospital, treating a broad range of auto-immune, auto-inflammatory and reactive dermatoses such as drug eruptions, neutrophilic dermatoses and dermatoses of pregnancy. She has developed Queensland's first multi-disciplinary clinic treating Hidradenitis Suppurativa.
Assoc. Prof. McMeniman has completed her PhD on the phenotypic and genotypic correlations in a cohort of patients with multiple primary melanoma. Her Masters of Public Health dissertation project was on skin diseases in Indigenous children in East Arnhem Land, and she still conducts outreach visits to Indigenous communities annually. Her other research interests are in public health and Hidradenitis Suppurativa.
Assoc. Prof. McMeniman's published works include:
Clinically urgent appointments can be accommodated by contacting Central Brisbane Dermatology, 101 Wickham Terrace on 07 3831 4382.