BAPPSC (Hons)(Optom), MBBS (Griffith), FACD, Specialist Dermatologist
Dr Eleni Anthony is a contracted Australian-trained consultant dermatologist and a Fellow of the Australasian College of Dermatologists.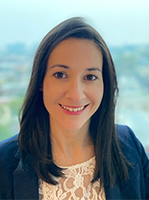 Dr Anthony completed her medical degree at Griffith University School of Medicine and underwent specialist training in dermatology at various major hospitals in Queensland and Victoria, including The Queensland Institute of Dermatology, the Alfred Hospital, The Skin Health Institute, and Box Hill Hospital.  She also gained overseas experience during her training in Queens Hospital, London.
She has been awarded several scholarships including the Graeme Beardmore Bursary Award from the Queensland Institute of Dermatology, and the Eddington Dermatology Scholarship from The Skin Health Institute, Victoria.  Her publications are in various topics including skin cancer, psoriasis and medical dermatology.
Dr Anthony has special interests in a broad range of skin conditions including eczema, psoriasis, acne and rosacea.  Additionally, she has a particular interest in skin cancer and melanoma diagnoses and management.  She is passionate about her work and takes pride delivering excellence in care to her patients.
Dr Anthony is currently overseas and is not taking patients.